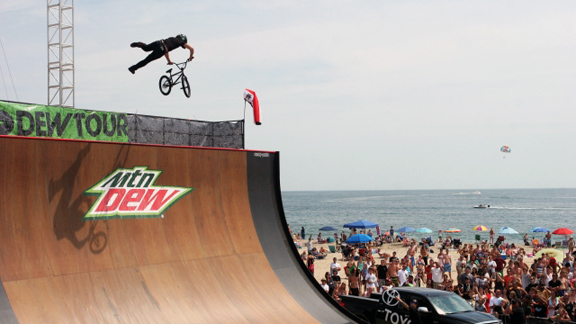 Zack Warden edged out BMX Mega favorite and top qualifier Chad Kagy in a tie-breaker finish Sunday in the MegaRamp 2.0 competition at the 2012 Dew Tour Pantech Beach Championships in Ocean City, Md.
"With the big jump and the big quarter pipe you can allow yourself to do more technical moves and bigger moves, and that's what I came here to do," Warden said, in a post-podium interview.
Warden sealed the deal and claimed the $20,000 top prize with his fourth and final run, bumping his score to 91.63 with a backflip bike flip over the gap and a triple tailwhip on the quarterpipe. Warden had the better score in his second best run, giving hm the win over Kagy.
"It was the last chance and there were only two things that were going to happen: I was going to fall or I was going to pull it [off]. I just kept my head down and luckily I have the MiniMega at Woodward East and I can train whenever I want. It paid off today," Warden said. "I'm grateful to Woodward and I'm grateful to Chad for always being there to ride with me. It's an amazing day. I don't know what to say."
Vince Byron, who left the venue on a stretcher after slamming on a decade 540, managed to hold on for third place. Kevin Robinson, a perennial Big Air favorite, also left the venue on a stretcher after a similar fall, ultimately finishing in eighth place. Official injury status reports have not been made available yet, but both riders appeared to be moving and alert as they left the venue.
Full story
here
.